The Holy City of Nazareth is the childhood home of Jesus, as described in the New Testament. A center of Christian faith and pilgrimage.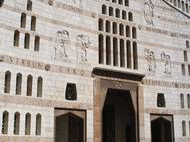 John 1: 46: "And Nathanael said unto him, Can there any good thing come out of Nazareth? Philip saith unto him, Come and see".
Location:
Nazareth is located in the hills in the center of the Galilee in Northern Israel. The modern city of Nazareth was built over the old village, and few archaeological remains are left from the times of Jesus.
Nazareth is today a big city, populated by Christians and Muslims (in lower Nazareth) and Jews (in Upper Nazareth, called Natzeret-Illit). It less than one hour drive east of Haifa. The older section near the Churches is crowded with small shops and narrow alleys. The City grew around this center towards the hills around, with more Arab villages around the city that are practically connected to the City.
History of Nazareth:
These are the highlights along the timeline:
~4BC to ~33AD Jesus grows up in Nazareth, a small village with few houses
Mid 4th C AD Church of the Annunciation was founded by Helena,
mother of Emperor Constantine
638AD Arab invasion; destruction of the Church
1109AD Crusaders arrive to the Holy Land; stay in Nazareth until 1187
1229-1263AD Crusaders return for brief time; City destroyed
1948AD Israel Independence war; Arab city surrenders
1997-2006AD Friction around mosque built in front of the Church of the Annunciation
2006AD City hit by Rockets from Lebanon